Explore the Crossover City Hiker
Size Guide
Shoe Size Guide
| U.S. Size | EU Size | U.K. Size | Canadian Size | Inches |
| --- | --- | --- | --- | --- |
| 6 | 39 | 5 | 6 | 9.25 |
| 6.5 | 39.5 | 5.5 | 6.5 | 9.42 |
| 7 | 40 | 6 | 7 | 9.625 |
| 7.5 | 40.5 | 6.5 | 7.5 | 10 |
| 8 | 41 | 7 | 8 | 10.4 |
| 8.4 | 41.5 | 7.5 | 8.5 | 10.125 |
| 9 | 42 | 8 | 9 | 10.25 |
| 9.5 | 42.5 | 8.5 | 9.5 | 10.5 |
| 10 | 43 | 9 | 10 | 10.625 |
| 10.5 | 43.5 | 9.5 | 10.5 | 10.75 |
| 11 | 44 | 10 | 11 | 11 |
| 11.5 | 44.5 | 10.5 | 11.5 | 11.125 |
| 12 | 45 | 11 | 12 | 11.25 |
| 12.5 | 45.5 | 11.5 | 12.5 | 11.5 |
| 13 | 46 | 12 | 13 | 11.625 |
| 14 | 47 | 13 | 14 | 12 |
| 15 | 48 | 14 | 15 | 12.25 |
Belt Size Guide
Waist Size

Inches

Belt Size

Inches

Belt size

CM

Strap Length

Inches

Strap Length

CM

28
30
76.2
36
91.44
30
32
81.28
38
96.52
32
34
86.36
40
101.60
34
36
91.44
42
106.68
36
38
96.52
44
111.76
38
40
101.6
46
116.84
40
42
106.68
48
121.92
42
44
111.76
50
127.00
Softer. Sleeker. Better.
Soft Italian Calfskin.
Equal parts poise and performance, the Crossover is Wolf & Shepherd's newest dress shoe built to bridge the gap between work and play. Featuring a lightweight construction, shock absorbent cushioning, and premium Italian leather, the Crossover gets you where you need to go, no matter the route you take.
FLOATFORM™ Removable Insoles
Like Walking On Clouds.
You don't have to worry about getting the perfect fit. If you need to adjust sizing a bit, just snag one of our Wide or Narrow footbeds. Our FloatForm footbeds can also be taken out and replaced when they wear down.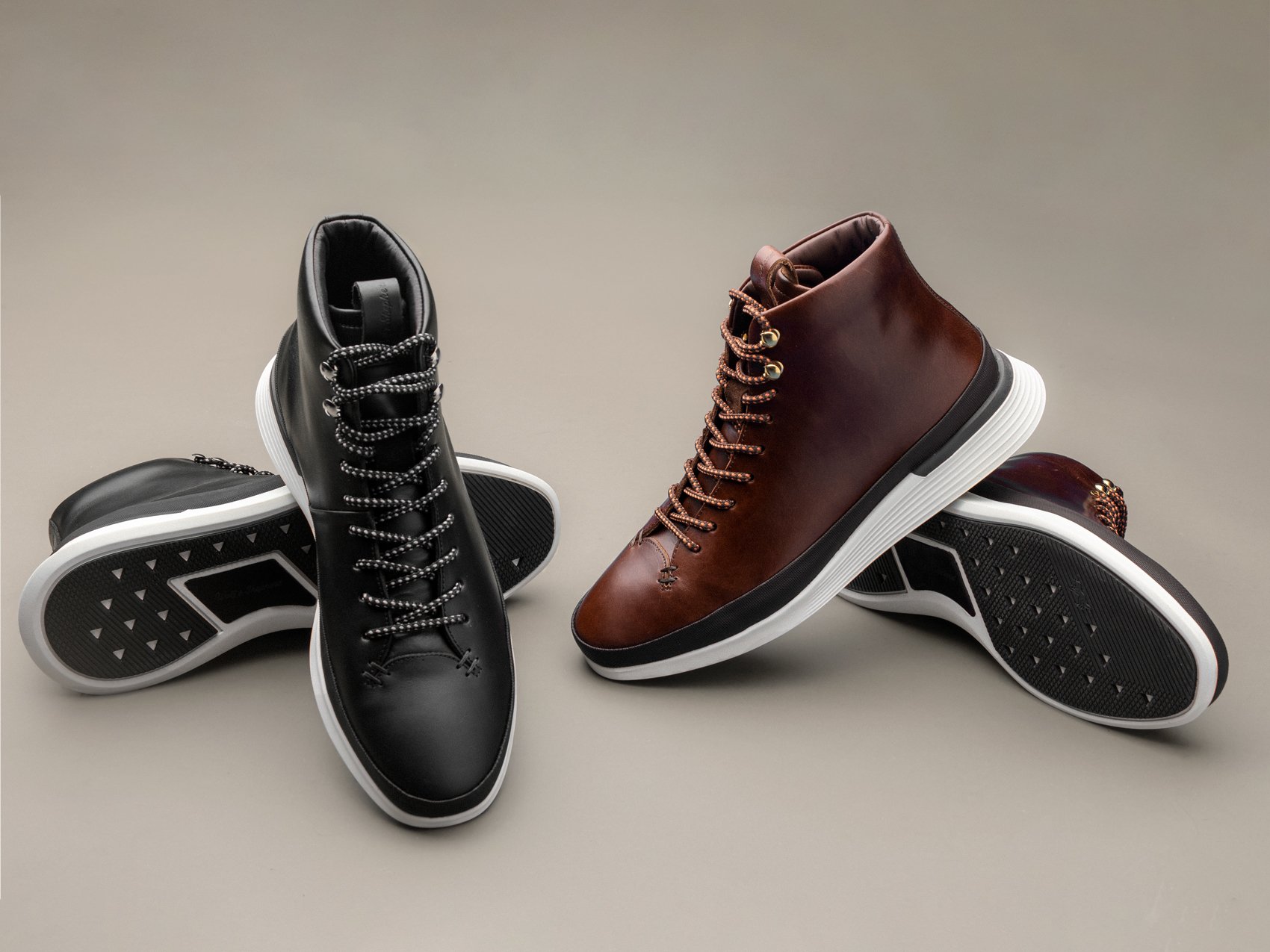 a refined silhouette
The future of footwear.
Hybrid dress shoes are redefining workplace footwear by offering a more casual alternative to standard dress shoes. We think they pair best with slacks/trousers and a jacket, khakis, denim, chinos, and plenty more.
Pair Crossover City Hiker With
weather the storm
On the clock or off the grid.
We've added another sleek style to our best-selling Crossover collection. The Hiker takes inspiration from a classic adventure boot built for anything - this boot will get you through the toughest day in comfort and style.
''Stylish dress shoes made to feel as comfortable as sneakers... by a former Adidas designer''
''Wolf & Shepherd is pitching men's dress shoes as comfortable enough for long commutes.''
''All the comfort of a running shoe..and now they have a world record to back it up.''
''A former adidas designer has reinvented the dress shoe to be as comfortable as sneakers.''