31862969434185
Explore the Crossover City Hiker
Size Guide
Shoe Size Guide
| Men's U.S. Size | Women's U.S. Size | EU Size | U.K. Size | Canadian Size | Inches |
| --- | --- | --- | --- | --- | --- |
| 6 | 8 | 39 | 5 | 6 | 9.25 |
| 6.5 | 8.5 | 39.5 | 5.5 | 6.5 | 9.42 |
| 7 | 9 | 40 | 6 | 7 | 9.625 |
| 7.5 | 9.5 | 40.5 | 6.5 | 7.5 | 10 |
| 8 | 10 | 41 | 7 | 8 | 10.4 |
| 8.5 | 10.5 | 41.5 | 7.5 | 8.5 | 10.125 |
| 9 | 11 | 42 | 8 | 9 | 10.25 |
| 9.5 | 11.5 | 42.5 | 8.5 | 9.5 | 10.5 |
| 10 | 12 | 43 | 9 | 10 | 10.625 |
| 10.5 | 12.5 | 43.5 | 9.5 | 10.5 | 10.75 |
| 11 | 13 | 44 | 10 | 11 | 11 |
| 11.5 | 13.5 | 44.5 | 10.5 | 11.5 | 11.125 |
| 12 | 14 | 45 | 11 | 12 | 11.25 |
| 12.5 | 14.5 | 45.5 | 11.5 | 12.5 | 11.5 |
| 13 | 15 | 46 | 12 | 13 | 11.625 |
| 14 | 16 | 47 | 13 | 14 | 12 |
| 15 | 17 | 48 | 14 | 15 | 12.25 |
Belt Size Guide
Waist Size

Inches

Belt Size

Inches

Belt size

CM

Strap Length

Inches

Strap Length

CM

28
30
76.2
36
91.44
30
32
81.28
38
96.52
32
34
86.36
40
101.60
34
36
91.44
42
106.68
36
38
96.52
44
111.76
38
40
101.6
46
116.84
40
42
106.68
48
121.92
42
44
111.76
50
127.00
Softer. Sleeker. Better.
Soft Italian Calfskin.
Equal parts poise and performance, the Crossover is Wolf & Shepherd's newest dress shoe built to bridge the gap between work and play. Featuring a lightweight construction, shock absorbent cushioning, and premium Italian leather, the Crossover gets you where you need to go, no matter the route you take.
Cushioned removable insoles
Like Walking On Clouds.
Our removable FloatForm™ footbed features dual-density memory foam layers, lined with a supple sheepskin leather for maximum comfort. If you need to adjust sizing a bit, just snag one of our Wide or Narrow footbeds. Our FloatForm footbeds can also be taken out and replaced when they wear down.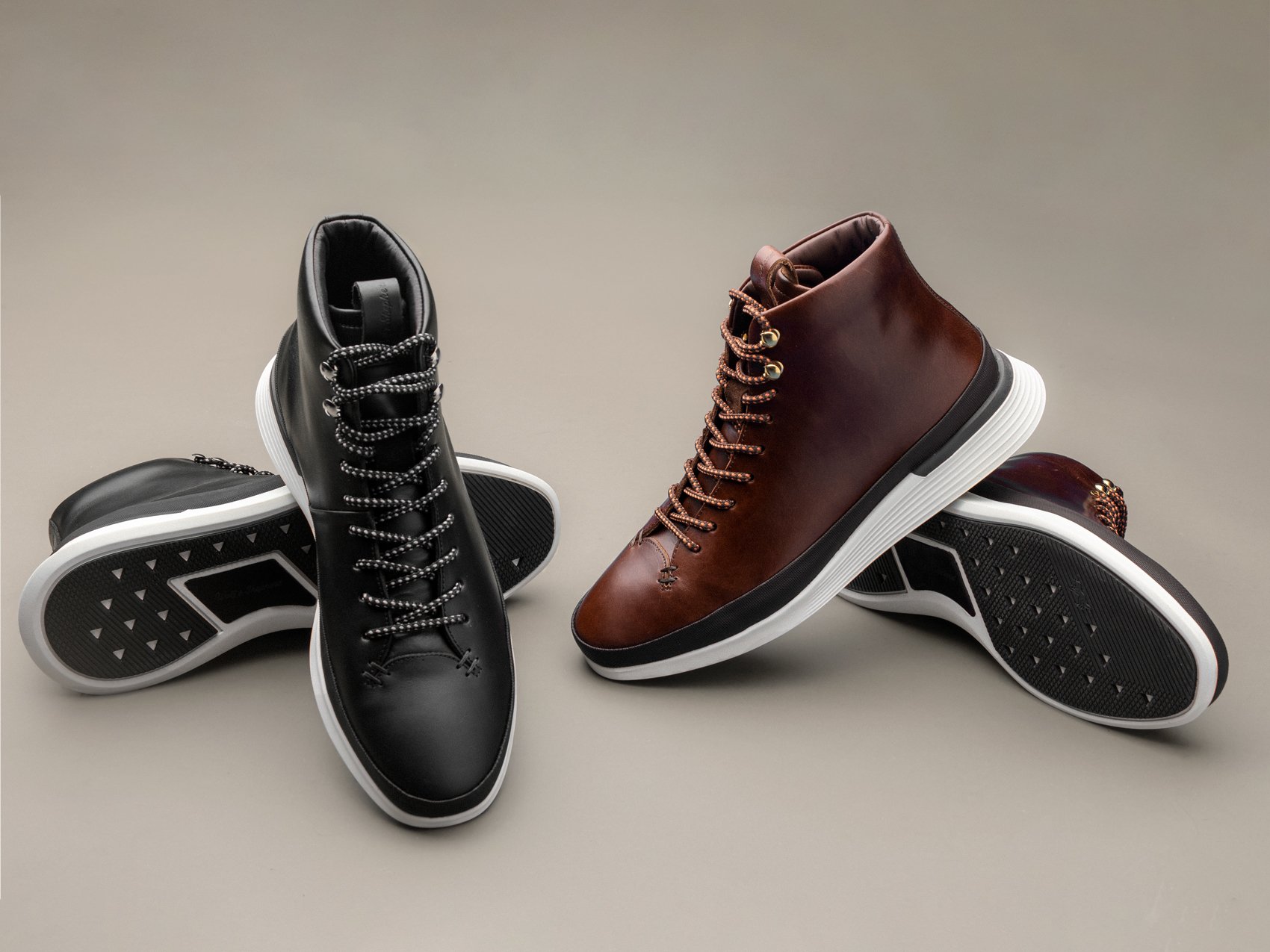 a refined silhouette
The future of footwear.
Hybrid dress shoes are redefining workplace footwear by offering a more casual alternative to standard dress shoes. We think they pair best with slacks/trousers and a jacket, khakis, denim, chinos, and plenty more.
casual versatility
Dress them up, or down.
The Crossover City Hiker looks just as good under a well tailored suit, but can also be worn with a pair of dark denim. When the weather takes a turn, it's the perfect boot with it's rubberized mudguard to offer waterproof protection. See our style guide here.
Pair Crossover City Hiker With
weather the storm
On the clock or off the grid.
We've added another sleek style to our best-selling Crossover collection. The Hiker takes inspiration from a classic adventure boot built for anything - this boot will get you through the toughest day in comfort and style.
''Stylish dress shoes made to feel as comfortable as sneakers... by a former Adidas designer''
''Wolf & Shepherd is pitching men's dress shoes as comfortable enough for long commutes.''
''All the comfort of a running shoe..and now they have a world record to back it up.''
''A former adidas designer has reinvented the dress shoe to be as comfortable as sneakers.''
Customer Reviews
Write a Review
Ask a Question
02/22/2021
K E.

United States
Great, but sizing feels off
I bought these largely because I was so pleased with the Crossover Longwing. I ordered the same size in the Crossover Hikers, but it was way too tight overall (especially width). I exchanged them for a half size larger, but these felt a bit too roomy for my liking. I wound up keeping them because the design and feel of the shoe is so nice.
02/16/2021
Angel T.

United States
Favorite everyday shoe...
Months after buying and returning other sneaker/boots I finally came across these then immediately pulled the trigger on a pair. The Hiker checks all the boxes for me. Winters in LA never require any serious snow or rain footwear so I've been wearing these about 3-4 times a week with decent mileage and they just get more comfortable as they progress. The styling is certainly not cookie-cutter, I get many compliments and questions about where I got them. The construction quality doesn't disappoint, it is such a versatile shoe whether its paired with sweats on a lazy day or jeans on a workday. Hopefully they release other colors and materials for this.
02/14/2021
Taurus S.

United States
Have u ever seen Crossovers with a dress suit?
The crossovers are snug simply because they're leather. However, a few wears and they fit with ease and comfort. I need to order half a size smaller. Usually wear 12 sneakers yet in crossover wear 11.5
02/14/2021
Zac H.

United States
Stylish, functional all-weather boot
In general I'm a loyal member of the "Wolf Pack," having purchased and enjoyed everything from the traditional loafer to two different pairs of the SwiftKnit Derby. This boot is no exception, providing important all-weather resilience for a New Yorker like myself while retaining both the comfort to put some miles in and the style to go with everything. The one issue with the boot is that - unlike virtually every other boot I own - there's no 'loop' on the heel side of the boot for grip, making it tedious to put on (though taking it off is simple). The loop is instead on the tongue of the shoe, which is helpful but not as much as would be ideal. Still, that's not a fatal flaw by any means; this shoe is more than worth the price, and I consider it an essential item on the rack of any city-dweller.