31899620442185
W&S Sneaker Wipes - 15 pack
Explore the W&S Sneaker Wipes - 15 pack
Size Guide
Shoe Size Guide
| Men's U.S. Size | Women's U.S. Size | EU Size | U.K. Size | Canadian Size | Inches |
| --- | --- | --- | --- | --- | --- |
| 6 | 8 | 39 | 5 | 6 | 9.25 |
| 6.5 | 8.5 | 39.5 | 5.5 | 6.5 | 9.42 |
| 7 | 9 | 40 | 6 | 7 | 9.625 |
| 7.5 | 9.5 | 40.5 | 6.5 | 7.5 | 10 |
| 8 | 10 | 41 | 7 | 8 | 10.4 |
| 8.5 | 10.5 | 41.5 | 7.5 | 8.5 | 10.125 |
| 9 | 11 | 42 | 8 | 9 | 10.25 |
| 9.5 | 11.5 | 42.5 | 8.5 | 9.5 | 10.5 |
| 10 | 12 | 43 | 9 | 10 | 10.625 |
| 10.5 | 12.5 | 43.5 | 9.5 | 10.5 | 10.75 |
| 11 | 13 | 44 | 10 | 11 | 11 |
| 11.5 | 13.5 | 44.5 | 10.5 | 11.5 | 11.125 |
| 12 | 14 | 45 | 11 | 12 | 11.25 |
| 12.5 | 14.5 | 45.5 | 11.5 | 12.5 | 11.5 |
| 13 | 15 | 46 | 12 | 13 | 11.625 |
| 14 | 16 | 47 | 13 | 14 | 12 |
| 15 | 17 | 48 | 14 | 15 | 12.25 |
Belt Size Guide
Waist Size

Inches

Belt Size

Inches

Belt size

CM

Strap Length

Inches

Strap Length

CM

28
30
76.2
36
91.44
30
32
81.28
38
96.52
32
34
86.36
40
101.60
34
36
91.44
42
106.68
36
38
96.52
44
111.76
38
40
101.6
46
116.84
40
42
106.68
48
121.92
42
44
111.76
50
127.00
''Stylish dress shoes made to feel as comfortable as sneakers... by a former Adidas designer''
''Wolf & Shepherd is pitching men's dress shoes as comfortable enough for long commutes.''
''All the comfort of a running shoe..and now they have a world record to back it up.''
''A former adidas designer has reinvented the dress shoe to be as comfortable as sneakers.''
Customer Reviews
Write a Review
Ask a Question
03/30/2021
Mohamad D.

United States
Two different pairs
Swift Derby had to pass it on to my brother. I have a wide foot and I couldn't even wear it. Crossover long is narrow bought a size bigger so it can fit. The front is empty and the leather is super shiny. Very comfortable tho. I would love to buy more if you offer a different width
03/21/2021
Randall A.

United States
Wipes
Good, solid product!
02/26/2021
WILLIAM M.

United States
Great look with the most comfortable feel
I am very excited to have purchased 3 pairs of the shoes already! I plan on buying the good looking crossovers in the future. Glad that I have the color options to go with any combo or occasion. Highly Recommended. I have a wide foot and went up a size and the feel is great but a bit snug on the width. Even so I still have a great feel in them, all day without any issues...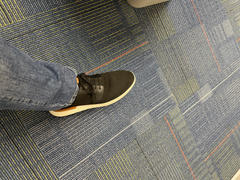 02/25/2021
Nathan G.

United States
Love the Fresh Colors & Comfort
It's easy to love this shoe. I have the Navy Swiftknits and love them. It's great to see more colors becoming available on this style. Navys run a little small - by 1/2 size.